Sarah Gish, Ink Magazine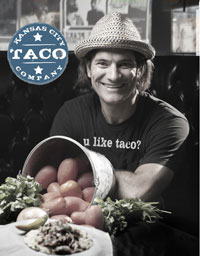 After Arthur Leduc moved to Kansas City a year and a half ago, he made it a personal mission to find Kansas City's best tacos.
Leduc, an entrepreneur and New Englander who's lived in Hawaii, Colorado, Nevada, Florida, and California, says he found the best authentic Mexican tacos in restaurants along Southwest Boulevard.
What he couldn't find was a place that satisfied his craving for California-style tacos overflowing with fresh ingredients like grilled fish and colorful baja cabbage slaw.  So Leduc, who grew up in the restaurant industry, decided to get in to the taco business.
Kansas City Taco Company started this year, catering corporate meetings and private parties.  In June, the business moved to the full kitchen at Czar Bar, 1531 Grand, and started serving California-style tacos and spicy, made-to-order Killer Guac.
Two weeks ago, I ordered the signature BBQ Pork taco ($3.75), mesquite-fired shredded pork in doubled soft corn tortillas topped with melty jack cheese, spicy barbecue sauce and a healthy serving of cabbage slaw made with cilantro, tomato, serrano pepper and lime juice.
Stuffing all those flavors inside one taco might sound like a bad idea, but in this case it works. The cool, crunchy slaw is a refreshing counterpoint to all that saucy, savory shredded pork.
I also tried the Fish of the Day taco ($4.50). Leduc charred a cilantro and lime-marinated tilapia fillet to flaky perfection and topped it with a sweet mango salsa dotted with hunks of ripe tomato. The combination was delicious — and the portion was so big that I could barely fold the tortillas.
"We put as much food in that taco as we can," Leduc explains. "That way somebody can come in and have two tacos and be pretty full for under $7.50."
That price dips lower if you go during Taco Tuesday, when select tacos are $2 each. During happy hour (5-7 p.m. Monday-Saturday), select tacos are $2.50.
Leduc's favorite happy hour taco is the Cuban-style Shredded Beef Vieja. The beef in that taco is seasoned, slow-roasted — and a cut above ground beef in a fried shell. Leduc is also working on recipes for Korean short rib tacos and Hawaiian ahi (tuna) tacos.
"I don't know if this is a Midwest thing, but when people think of tacos, they think of Mexican food," Leduc says. "In other parts of the country — Florida or California or the Pacific Northwest — it's just a style of food."
Kansas City Taco Company is open from 5-10 p.m. Monday-Saturday at Czar Bar (Ludec still caters, too). If you want to eat there during a show at Czar Bar, you can skip the cover charge — unless a national act is on the stage.
Share